Would you like to learn how to play the guitar, develop your skills and play your favourite songs, learn guitar solos or explore different styles?, lessons are for everyone, from beginners to advanced (kids and adults). The students are welcome to the lessons from the age of 6.
Carlos has excellent motivation with his profession and he is driven to help his students to achieve their best. You will find him to be a positive, hard-working, down-to-earth person with a good sense of humor. He has very good communicational and interpersonal skills which enable him to discuss any matter of concern with the students and their parents.
Carlos is currently working as a teacher in Copenhagen with his own music school (Barragan Guitar), online HD lessons and at the International School of Hellerup (Instrumental programme after school), His students represent several nationalities.
Scroll to see more pictures (students, lessons and concerts) >>>
Guitar lessons for beginners and advanced students
Carlos Barragán teaches guitar students at all levels, from beginner to advanced level in different areas.
Lessons at the studio in Copenhagen
Finally there is an international guitar school in Copenhagen where all students are not only learning how to play properly the guitar from a professional guitarist but also how to appreciate the meaning of the music and arts.
In the guitar lessons the students not only learn how to play the guitar but also music theory, ear training and music analysis. The students get to play in concerts, know more students of the same age and play together.
The guitar lessons in Copenhagen are held at Carlos' teaching studio (Ørnevej, Copenhagen NV). The studio offers great facilities and is easily reached by students and families from other areas of Copenhagen such as: Frederiksberg, Hellerup, Klampenborg, Vesterbro, Valby, Østerbro etc.
Online Guitar Lessons
Carlos has also several students all over around the world. He works with a very effective gear and a software that allow the students to see him in 3 different cameras simultaneously with an HD audio and image quality. For further information about online guitar lessons, CLICK HERE.
Student's lessons and extra activities
Show your skills at concerts!
Concerts!
Two times a year students will be able to show their skills and perform in a concert where family and friends are welcome.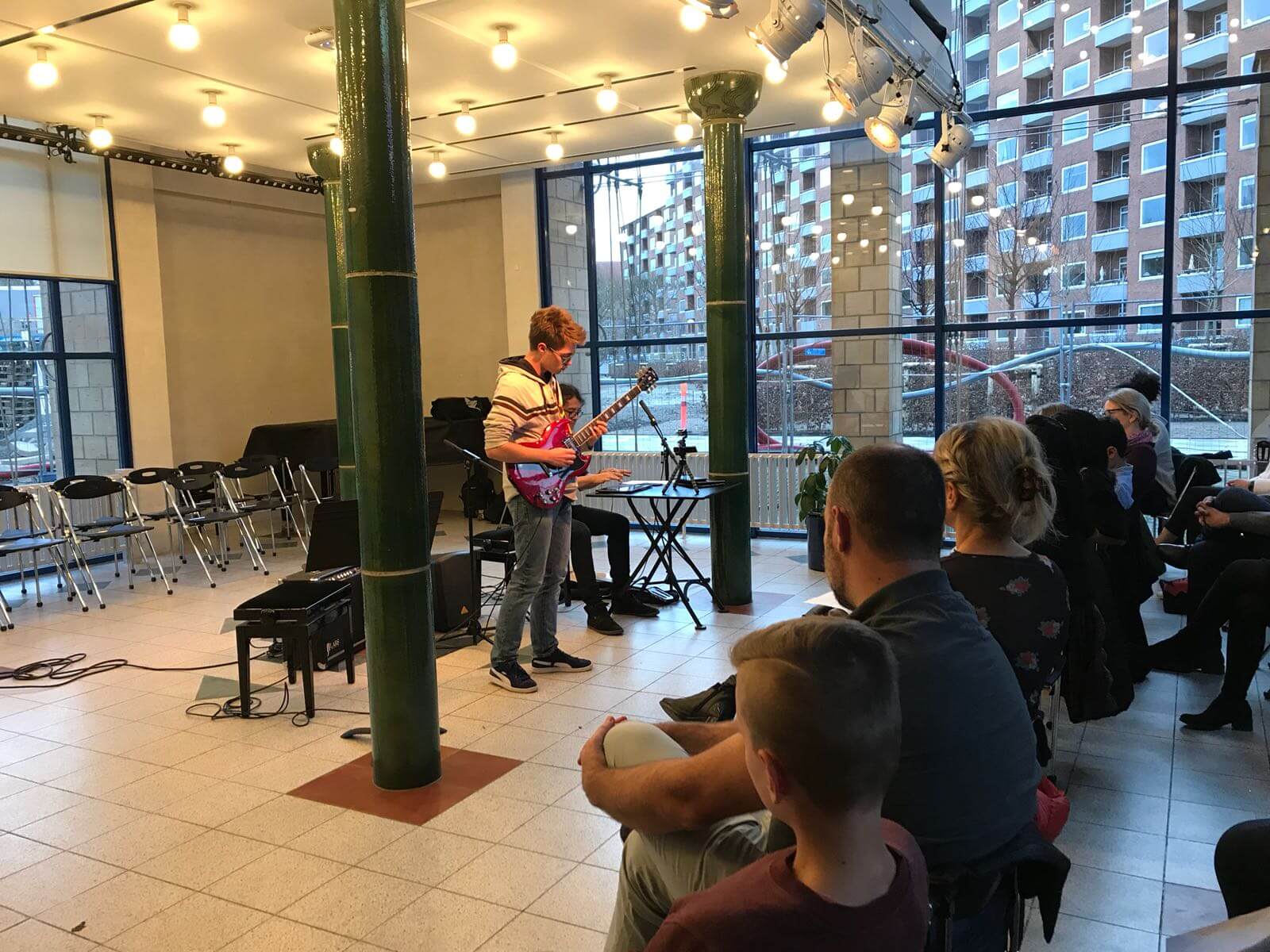 Guitar lessons in groups and workshops
Guitar lessons in groups are for those students who have already developed some skills in the private guitar lessons and are able to play with other students (only students who are already enrolled in the private lessons can take these lessons, so it is an extra activity besides the private lessons). These lessons are called chamber music (guitar duo, trio or quartet) or guitar orchestra projects. These lessons are once or twice a month.
Prices for guitar lessons in Copenhagen
Scroll to see more prices
(DKK) Prices for solo guitar lessons
Duration
4 lessons
10 lessons
15 lessons
20 lessons
25 lessons
20 Minutes
200/lesson
800 Total
195/lesson
1.950 Total
190/lesson
2.850 Total
185/lesson
3.700 Total
180/lesson
4.500 Total
30 Minutes
250/lesson
1,000 Total
245/lesson
2.450 Total
240/lesson
3.600 Total
235/lesson
4.700 Total
230/lesson
5.750 Total
40 Minutes
340/lesson
1.360 Total
335/lesson
3.350 Total
330/lesson
4.950 Total
325/lesson
6.500 Total

Most Popular

320/lesson
8.000 Total
60 Minutes
500/lesson
2.000 Total
495/lesson
4.950 Total
490/lesson
7.350 Total
485/lesson
9.700 Total
480/lesson
12.000 Total
Prices are in DKK and taxes are included
Prices for group lessons and workshops:
150 DKK per student (50 minutes lesson)
At least 4 students have to be in the workshops.
At least 3 students have to be in a chamber music group.
At least 7 students have to be in Orchestra project group.
Payment methods:
The student will receive an invoice. The taxes are already included in the prices. (The invoice must be already paid before the lessons start). The student can pay through MobilePay app to the phone number (Carlos phone number) or through the bank account number that will be shown in the invoice. If the student lives abroad it is possible to pay with Paypal or Wise transfer (extra fee from payments abroad will be adjusted accordingly).

Agreements of the lessons and policies:
The lessons and dates written in the invoice are confirmed once the invoice is paid. If a guitar lesson is cancelled less than 20 hours before the lesson starts, the teacher is not required neither to refund the payment nor to reschedule it. This condition might not apply to acute medical reasons. *If the student gets sick the teacher must be informed at least 8 hours before the lesson starts, so the teacher has the possibility to reschedule the lesson during the same week either at the studio or online. If it is not possible to reschedule, the teacher is not required to refund the payment. If the student needs to have a pause for the lessons, it is allowed to freeze the pack for a maximum of (1) one month continuously, after that the lessons will be charged in case the student doesn't appear to the lessons. If the teacher is absent due to concerts or gets ill, lessons will be rescheduled or cancelled with no charge. (Usually music schools don't offer this policy).
If the lessons are cancelled before the payment is done but there is an agreement of the lessons and the invoice has been sent to the student:
- 15% of the agreed package amount must be paid if the cancellation / modification is made on or before 30 days the first lesson starts.
- 25% of the agreed package amount must be paid if the cancellation / modification is made on or before 15 days the first lesson starts.
- 35% of the agreed package amount must be paid if the cancellation / modification is made on or before one week (8 days) the first lesson starts. .
- 50% of the agreed package amount must be paid if the cancellation / modification is made on the same day (when the first lesson starts).
Payments are not refundable!
*10 lessons pack is valid for 3 months since the day the invoice is issued (Student is allowed to cancel 1 lessons due to illness etc.)
*15 lessons pack is valid for 4 months since the day the invoice is issued (Student is allowed to cancel 2 lessons due to illness etc.)
*20 lessons pack is valid for 6 months since the day the invoice is issued (Student is allowed to cancel 3 lessons due to illness etc.)
*25 lessons pack is valid for 7 months since the day the invoice is issued (Student is allowed to cancel 4 lessons due to illness etc.)
Reviews from students and parents
"Carlos has a great teaching dynamic for adults. Very patient, attentive and funny. You also have the option to take classes in English, Spanish or Danish. I would highly recommend him to anyone considering learning the guitar."

Naiara Oliveira

"Carlos is an extraordinary guitarist who has the talent and the skill to touch your soul through the music. He has the capacity to transport you in an emotional wave when he is playing his guitar. I highly recommend Carlos as a musician."

Felipe Noval

"Carlos is an inspiring guitar teacher-coach who positively connects to the children by catering to their interests in music. My kids Areeb and Zidan are having a wonderful experience and are are able to play guitar for certain full songs now. A and Z have blossomed. Thank you very much Carlos."

Mohemmad Sadath Mehaboobjan

"My 11 year old son, Aryan has been taking guitar lessons from Carlos Barragan for more than 2 years, and it has been a great learning journey so far. Carlos has been very patient and motivating. His knowledge and his style of teaching makes the guitar learning a pleasing experience."

Vidya Anvekar

"Carlos is a chameleonic musician that plays almost all musical styles. Focusing in classical music, he is able to play with astonishing soulfulness any repertoire and lead his students to excel with magically passionate teachings and compositions."

Carlos Chavez

"Carlos has been teaching my son since last two years. He is really a great teacher with lot of patience, and teaches in a very interesting way, such as he also listens to my son's superman stories. My son really enjoys guitar lessons with Carlos. I would highly recommend him to anyone considering learning the guitar."

Sharmila Mukherjee

"Inspirerende, vanvittig dygtig og simpelthen så rar. Hurra for at vi fandt Carlos da min datter ønskede at prøve en ny underviser"

Tine Lundby Rasborg

"Excellent guitar player! His interpretation is amazing. Has a unique view of the music and also as teacher inspires to everyone."

Andres Mauricio

"The best music teacher ever!!! He is very patient and he takes all the time to teach me step by step. I absolutely recommend him!!"

Pao Casas

"Carlos teach our 10 year old boy (French). Super friendly, great listening ability, talented and very professional, mixing technical challenge and fun ! We highly recommand Carlos as a guitar teacher as well as a person !"

Christel Décatoire
Scroll to see more pictures >>>