Learn how to play the classical guitar
Classical guitar requires certain technique level for performing the pieces. Besides the relevant methods for classical guitar, the student will work thoroughly with teacher Carlos in order to develop the technique needed for playing this style.
One of the most appreciated guitar players David Russell mentions in one of his master classes "the technique is our vehicle of expression". That is one of Carlos' main reasons for encouraging his students to not only play the pieces and have fun with them of course but also work hard with the technique.
Some of the techniques and topics the students work along their process are:
Arpeggios
Scales
Music theory
Slurs (Legato)
Independence and stretching exercises
Music scores
Within the classical guitar repertoire the student will be able to get acquainted with different historical periods such as: Renaissance, Baroque, Classical, Romanticism, XX Century, Spanish guitar, among others.
Carlos will guide the students in different ways depending on the age and the level of the student.
The approach for the methods for beginners to medium level will of course change to the ones who are in advanced level.
Reviews from students and parents
"Carlos has a great teaching dynamic for adults. Very patient, attentive and funny. You also have the option to take classes in English, Spanish or Danish. I would highly recommend him to anyone considering learning the guitar."

Naiara Oliveira

"Carlos is an extraordinary guitarist who has the talent and the skill to touch your soul through the music. He has the capacity to transport you in an emotional wave when he is playing his guitar. I highly recommend Carlos as a musician."

Felipe Noval

"Carlos is an inspiring guitar teacher-coach who positively connects to the children by catering to their interests in music. My kids Areeb and Zidan are having a wonderful experience and are are able to play guitar for certain full songs now. A and Z have blossomed. Thank you very much Carlos."

Mohemmad Sadath Mehaboobjan

"My 11 year old son, Aryan has been taking guitar lessons from Carlos Barragan for more than 2 years, and it has been a great learning journey so far. Carlos has been very patient and motivating. His knowledge and his style of teaching makes the guitar learning a pleasing experience."

Vidya Anvekar

"Carlos is a chameleonic musician that plays almost all musical styles. Focusing in classical music, he is able to play with astonishing soulfulness any repertoire and lead his students to excel with magically passionate teachings and compositions."

Carlos Chavez

"Carlos has been teaching my son since last two years. He is really a great teacher with lot of patience, and teaches in a very interesting way, such as he also listens to my son's superman stories. My son really enjoys guitar lessons with Carlos. I would highly recommend him to anyone considering learning the guitar."

Sharmila Mukherjee

"Inspirerende, vanvittig dygtig og simpelthen så rar. Hurra for at vi fandt Carlos da min datter ønskede at prøve en ny underviser"

Tine Lundby Rasborg

"Excellent guitar player! His interpretation is amazing. Has a unique view of the music and also as teacher inspires to everyone."

Andres Mauricio

"The best music teacher ever!!! He is very patient and he takes all the time to teach me step by step. I absolutely recommend him!!"

Pao Casas

"Carlos teach our 10 year old boy (French). Super friendly, great listening ability, talented and very professional, mixing technical challenge and fun ! We highly recommand Carlos as a guitar teacher as well as a person !"

Christel Décatoire
Musical theory while learning to play the classical guitar
"Playing the guitar without musical knowledge is like building a bridge without being a civil engineer". That is one of the expressions that the students hear often from Carlos. If it is true that playing the guitar is for having fun and express feelings through the music, it is also necessary to understand how the music theory works together with the instrument. Therefore in the guitar lesson the students will learn not only how to play the guitar but also music theory, ear training, solfeo and music analysis.
Carlos teaches classical guitar in all of Greater Copenhagen
Would you like to learn how to play the classical guitar, develop your skills and play your favourite pieces?
Finally there is an international guitar school in Copenhagen where all students are not only learning how to play properly the guitar from a professional guitarist but also how to appreciate the meaning of the music and arts.
Students at Barragan guitar school will also be prepared for professional music education. Either the student wants to become a professional guitar player or play the guitar as a hobby, they will always learn a constructive way to play the guitar and perform with the instrument.
Lessons are open for everyone (children, teenagers, adults). The students are welcome to the lessons from the age of 6.
Carlos is currently working as a teacher in Copenhagen with his own music school (Barragan Guitar) and at the International School of Hellerup (Instrumental programme after school), His students represent several nationalities. The guitar lessons in Copenhagen are held at Carlos' teaching studio (Ørnevej, Copenhagen NV). The studio offers great facilities and is easily reached by students and families from other areas of Copenhagen such as: Frederiksberg, Hellerup, Klampenborg, Vesterbro, Valby, Østerbro etc.
Learn more about Carlos Barragan
Carlos has been studying and playing classical guitar for many years, playing also several concerts, touring not only in Colombia but also in different parts of Europe. At the same time Carlos has participated in different music projects both recording in studios and playing live concerts such as: Classical guitar duo, trio, quartet and orchestra projects.
Furthermore he has been teaching classical and electric guitar for more than 13 years. He used to work as a guitar teacher at la Pontificia Universidad Javeriana and two other music schools in Bogotá, Colombia. Currently he is working as a teacher in Copenhagen with his own music school (Barragan Guitar) and International School of Hellerup (Instrumental programme after school). His students represent several nationalities.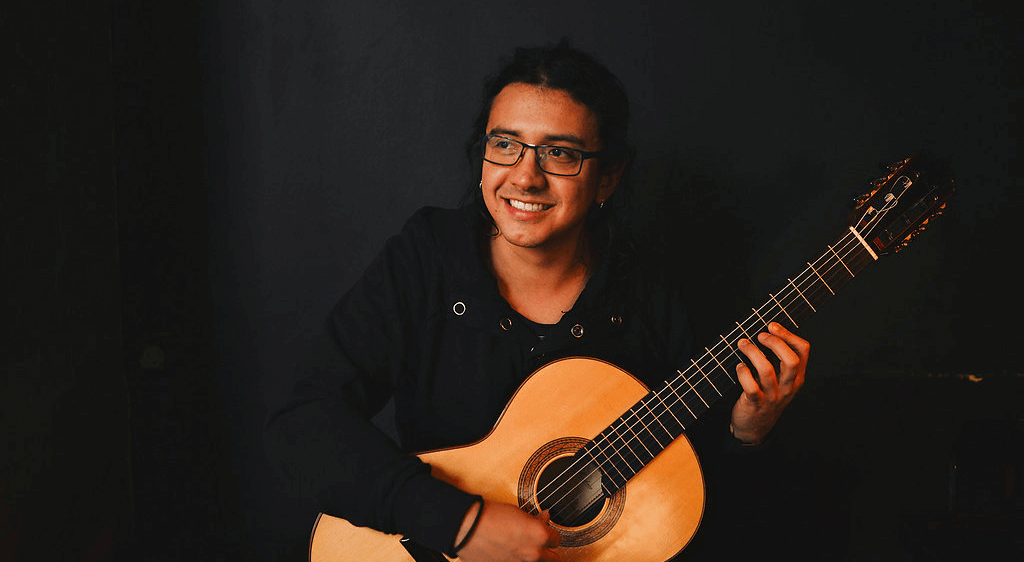 Contact Carlos for more information!